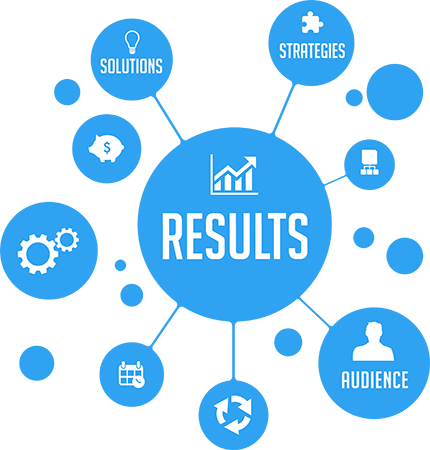 Real Strategies
Develop communication marketing strategies from listening to client needs.
Real Solutions
Once a clear understanding has been created, we take that information and produce solutions that fit within the established budget and the campaigns aspirations.
Real Results
Built on a strong relationship between us and our client, we produce results that fulfill the client's needs.
Online Adults Using Facebook
Facebook Users Who Sign in Daily
Twitter Users Who Tweet Daily
Billions of Monthly Facebook Users
Make a statement on the web.
We evaluate your online goals and build your website to improve online conversions from prospects to customers. All web development projects are mobile-friendly, aesthetically pleasing and functionally stand the test of time for years to come. Websites are designed with Search Engine Optimization as a focus so your next customer can easily find you online. We utilize Google Analytics, offering insights into how many customers are contacting you and their interaction with your site.
Speak to your customers.
We create professional, commercial quality videos to be used in your Social Media campaigns and promotions. Your custom, creative videos will provide a personal appeal on your website and further improve the Search Engine Optimization of your website. One of the most effective ways to promote your business is to use authentic photos in your promotions, and we pride ourselves in bringing that authenticity to your online branding.
Utilize all of your online tools.
A truly successful digital presence is more than a well created and managed website. Posting original content with quality creative builds your brand. We broadcast a single message to potential customers through direct targeting ad campaigns run on Facebook, Twitter, Instagram, and Linkedin. Strengthening your social presence drives traffic to your website and creates more opportunities for customers to choose your business.
Make the most of your advertising dollars.
Build traffic to your website and grow your customer base with targeted keywords. We target niche words that are industry-specific and utilize statistics to adjust your campaign accordingly. This advertising works in tandem with the organic website Search Engine Optimization to ensure the best results for your business.
Start your journey today
It is our mission to demonstrate strategic thinking, execute creative solutions and provide a focused approach to business communications. We take a holistic approach to digital marketing - integrating website development, online advertising and social media channels to maximize return on investment. Are you ready to get Real?